FRS Starts River Tour Excursions in Lisbon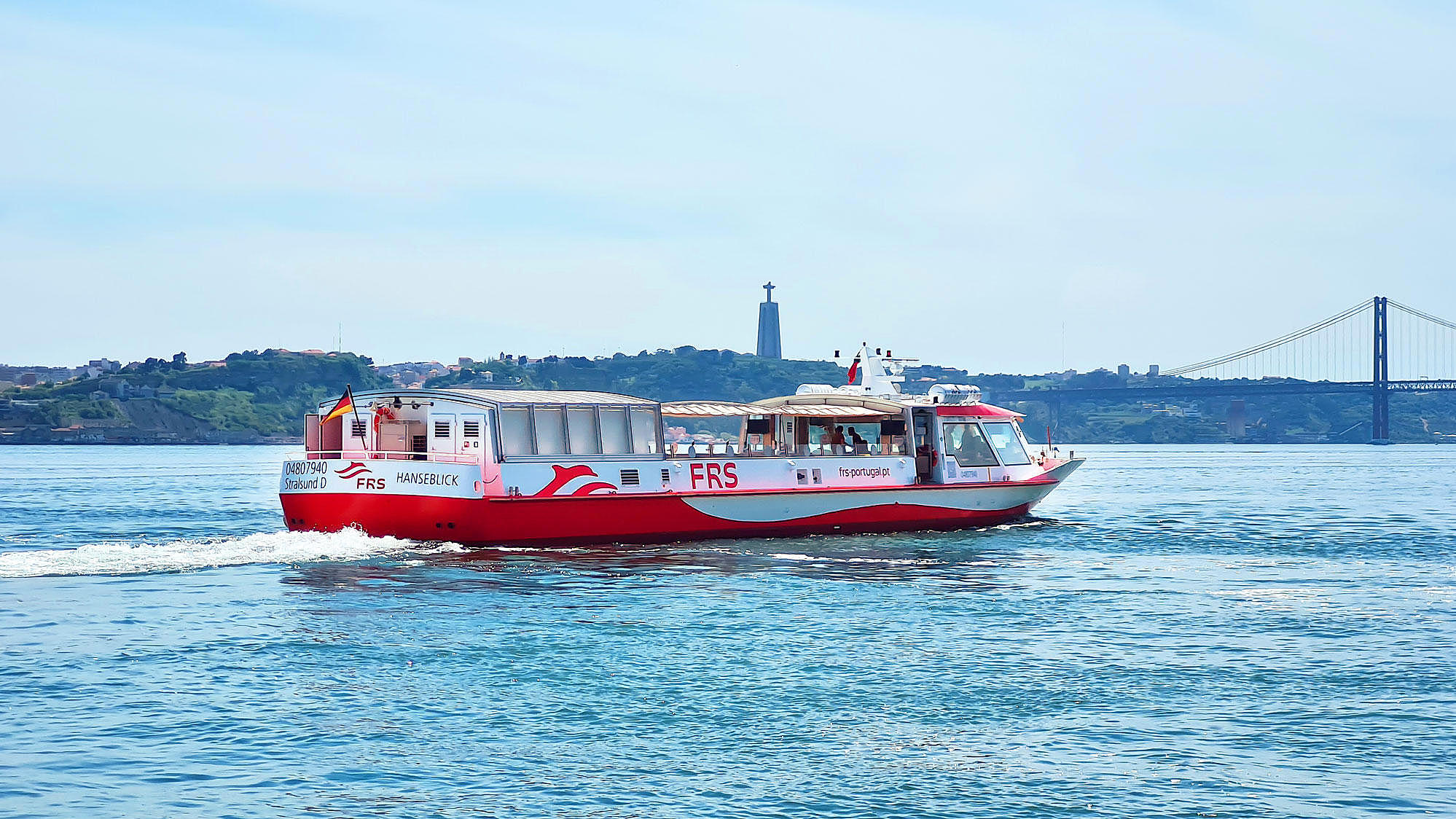 Following the easing of non-essential travel restrictions by Portuguese authorities, global ferry and shipping operator FRS, based in Flensburg, Germany, is starting its panoramic tours on the Tagus River, operated by its subsidiary "FRS Portugal" on May 29th.
The service will begin with two daily round trips, with the second tour incorporating a special sunset tour. Based on tourism demand, FRS Portugal will potentially add two more round trip tours at a later determined date. Bookings for the tours are being accepted starting May 26th online at frs-portugal.pt or directly at the terminal located at Estação Fluvial Sul e Sueste.
"We are pleased with the strengthening reduction of the pandemic in Portugal that is enabling a strong restart of robust tourism activity in the region", said Moritz Bruns, Director Business & Corporate Development of the FRS Group and Managing Director of FRS Portugal Unipessoal LDA. "The entire tourism industry has suffered so much over the past year. It is energizing to witness Lisbon rejuvenating once again and we are honored to offer our river tour service to locals and tourists alike as we integrate into the fabric of this vibrant city," said Bruns.
FRS Portugal's 37m motor vessel "Hanseblick" will be used for the river tour excursions. The vessel's cabrio option is a perfect match for a pleasant panoramic journey along the Tagus River. Under the open sky, guests can fully enjoy the charisma of the lively city, along with assorted snacks and drinks included with a sunset ticket. "We purposely selected this vessel from our worldwide fleet of more than 70 vessels knowing it would provide guests with a unique and magical perspective to take in Lisbon's beauty," said Bruns.
Daily operations in Lisbon are led by Svenja Wulff, a former Business Development Project Manager from FRS Headquarters, who has successfully executed various projects around the world and now has relocated to Lisbon to take over the local responsibility for the development of FRS Portugal. Wulff will lead a highly talented and qualified team of local and international staff for the tours.
For more information on FRS Portugal and the Tagus River tours, please visit www.frs-portugal.pt.

About FRS
From solar-powered excursion ships to cargo ferries, the FRS fleet is globally diverse. Today, the fleet comprises 73 ships carrying 7.9 million passengers and 2.1 million cars worldwide annually. Around Rügen, one of Germany's most important tourist regions, FRS is the market leader in excursion and line services. Via its subsidiaries Weiße Flotte and Reederei Hiddensee, FRS has been firmly established in the region for more than 50 years. On the Strait of Gibraltar, FRS is one of the leading operators with 8 vessels, ranging from passenger-only catamarans to RoPax ferries with cabins. In addition to tourist services, FRS has successfully operated a scheduled traffic and cargo service between Spain and Morocco for over 20 years. Learn more about FRS at www.frs.world.